Saturday Afternoon Update
Good evening everyone, sorry today's update is late but better late than never, right? Yesterday's snow forecast verified well, with most locations picking up between one and two inches. Some areas received some bonus snow and ended up with three to four inches, but overall, it was a good forecast. So what's next you ask? Rain, and lots of it. My goal for this website is to provide a unique weather experience for this area. The first step in doing that is providing maps where you can interpret the data better. When I attended college at Western Kentucky University, I minored in GIS which stands for Geographic Information System. During these courses, I learned to make custom maps and insert the information that I wanted into these maps. I have some more work to do with these maps, but here is a rough draft of what you will see in the future. I have customized a few sketches based on our geographical location and have inserted the data that relates to the current forecast. This weeks biggest weather story is, of course, the potential for more rainfall, so I have entered the Weather Prediction Centers forecasted rain over the next seven days.

This is a very concerning and potentially dangerous look because five to seven inches of rain is likely over the next seven days. The scarier part is that some of the data is suggesting that we could see higher amounts, regardless, flooding will once become a threat. The latest five-day forecast from the weather train weather center shows lots of rain.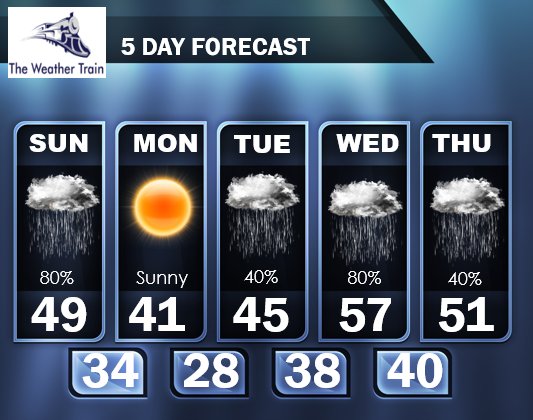 Ill have a more detailed blog post tomorrow, have a good afternoon everyone!